Services
PRES International is specialized in buying equipment from Western European origin and selling it all over the world.
Equipment for sale
At the moment we have a warehouse of 2500 m² with a full range of used machines such as pellet mills, mixers, grinders, extruders, etc. On the left side you can search our stock and see what is currently available.
If the equipment you are searching for is not in stock right now, don't hesitate to contact us. Because of our experience and knowledge of the market, we might be able to find the right equipment for you.
Support with international transport
Our customers are spread out all over the world. We have customers located in Egypt, Philippines, Chile, Vietnam and South Africa. Through years of experience we have required the necessary knowledge of the various customs rules for the international transport. We use this knowledge and experience to make the transportation of your equipment as smooth as possible.
Projects
PRES International also combines refurbished machinery with new machines to create a complete production line or even a complete feed mill. For an additional fee we can also offer a full set of planning-in drawings for you. For these drawings we work together with specialist companies in our network. In this way we can offer you a total solution.
For more information you can contact us by using our contact form.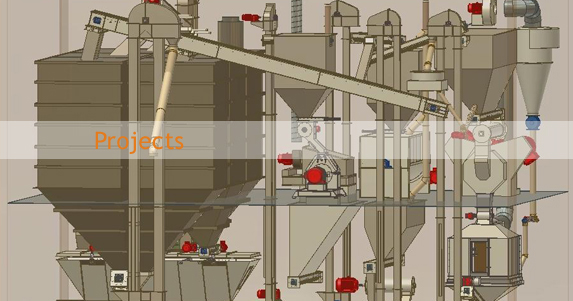 Spare and wear parts
We are aware that the machines we sell are part of an overall production process. You want this production process to be as efficient as possible. That is why it is important, that after the equipment is placed, you have a reliable partner for the necessary spare and wear parts.
PRES International can be your supplier of spare and wear parts for all types of machinery such as pallet presses, mixers, grinders, extruders, etc. We sell dies, complete rollers, roll shells, beaters, beater bars, mixer paddles, extruder dies and all sorts of other parts. You can see the total range of spare parts we sell on the left in: Stock search.
When the item you are looking for isn't in the list, please contact us. We are often still able to supply the needed spare parts.
If you are interested you can use this contact form to ask for a quotation
Buying equipment
Easy and quick you can turn your redundant machine in money and get free space in your warehouse. Because of our experience in this field, we have the knowledge and expertise to guide this process as optimal as possible.
We trade in more than 50 different types of Western European brands like: Bülher, CPM, Andritz, Salmatec, Van Aarsen, Kahl, Ottevanger, Wynveen and Geelen Counterflow. If you have a machine off a Western European brand for sale, please contact us. Together we can determine what we can do for each other.
You can reach us with the contact form "Sell your equipment ".
Disclaimer - Pelleting Recycling Equipment Suppliers International B.V. (PRES International)
The information contained in this website is for general information purposes only. Most of our machines will be refurbished at customer's desire. The pictures on our website can be a refurbished machine from the past.

The information is provided by PRES International and while we endeavour to keep the information up to date and correct, we make no representations or warranties of any kind, express or implied, about the completeness, accuracy, reliability, suitability or availability with respect to the website or the information, products, services, or related graphics contained on the website for any purpose. Any reliance you place on such information is therefore strictly at your own risk.
The entire contents of this website (text, photos, etc.) is copyrighted and may not be reproduced or distributed without the specific written permission of PRES International.